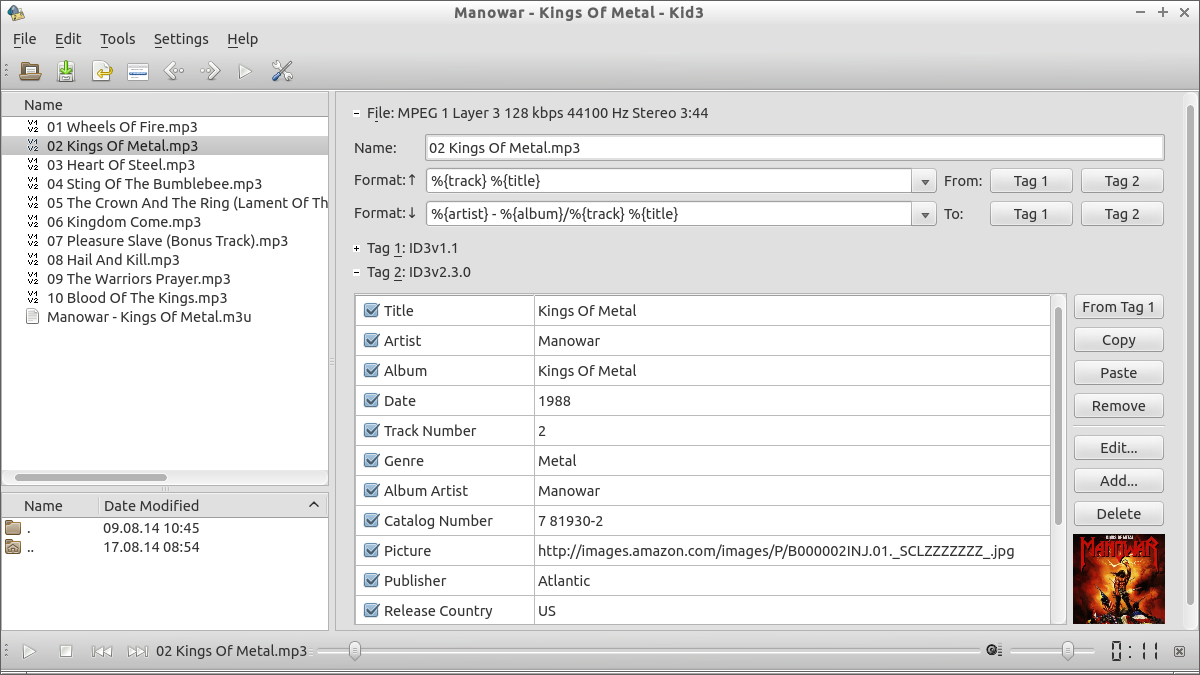 With Kid3, an audio tag editor, you can edit tags in MP3, Ogg/Vorbis, DSF, FLAC, Opus, MPC, APE, MP4/AAC, MP2, Speex, TrueAudio, WavPack, WMA, WAV, AIFF and tracker files.
All frames in the ID3 tags of MP3 files can be edited, and it is possible to convert between ID3v1.1, ID3v2.3 and ID3v2.4. Synchronized lyrics can be edited, imported and exported to LRC Karaoke files.
The tags of multiple files can be set together. It is possible to generate tags from file names or the contents of other tag fields and to generate file names from tags and rename folders from tags. Automatic case conversion and string replacement help to keep tags consistent.
Album data can be imported from gnudb.org, MusicBrainz, Discogs, Amazon; automatic batch import is available for multiple folders. It is also possible to export data and generate play lists.
This button only works with
Discover
and other AppStream application stores. You can also use your distribution's package manager.
Buraxılışlar RSS
3.9.3 2023-01-12
3.9.2 2022-08-06
3.9.1 2022-01-15
3.9.0 2021-12-18
3.8.7 2021-06-20
3.8.6 2021-03-18
3.8.5 2021-01-31
3.8.4 2020-09-26
3.8.3 2020-05-10
3.8.2 2020-01-23
3.8.1 2019-12-23
Kid3 Windows installers are also available to download from the binary-factory. These versions are intended for testing purpose. Get involved and help us make them better!