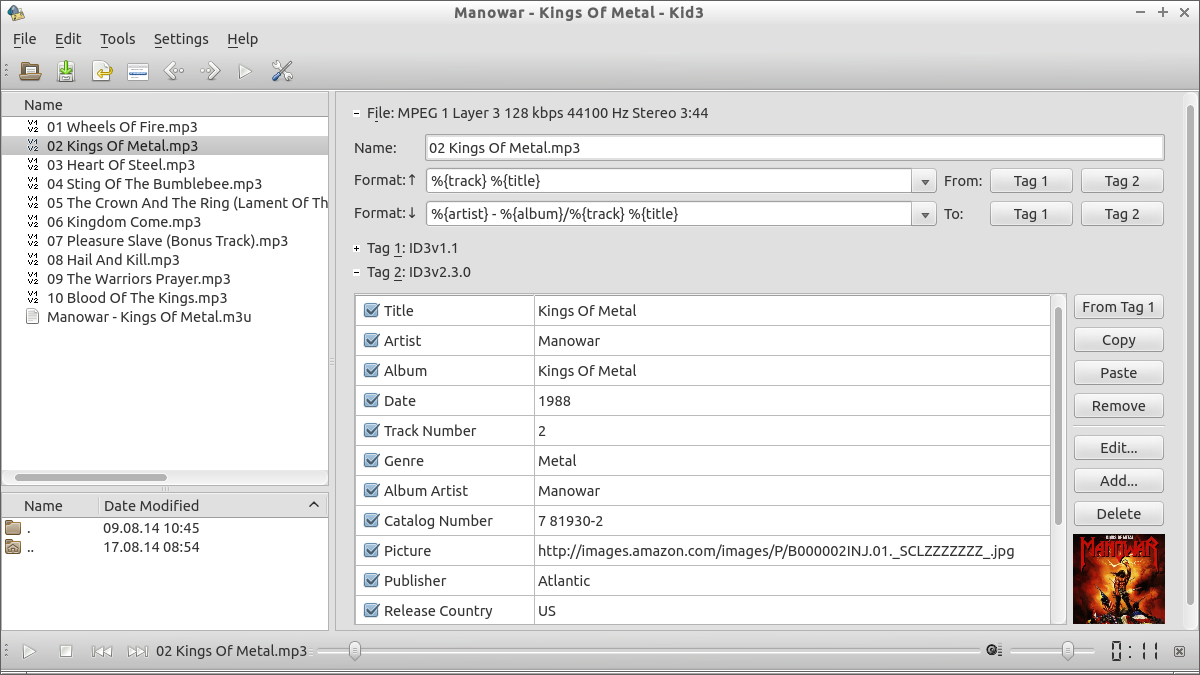 Amb el Kid3, un editor per a les etiquetes de l'àudio, podreu editar les etiquetes als fitxers MP3, Ogg/Vorbis, DSF, FLAC, Opus, MPC, APE, MP4/AAC, MP2, Speex, TrueAudio, WavPack, WMA, WAV, AIFF i del seguidor de peces.
Es poden editar tots els marcs en les etiquetes ID3 dels fitxers MP3, i és possible convertir-les entre l'ID3 versió 1.1, 2.3 i 2.4. La lletra sincronitzada es pot editar, importar i exportar a fitxers de Karaoke en LRC.
Es poden establir juntes les etiquetes de múltiples fitxers. És possible generar etiquetes a partir de noms de fitxer o el contingut d'altres camps d'etiqueta i generar noms de fitxer a partir d'etiquetes i canviar el nom de les carpetes a partir de les etiquetes. La conversió automàtica de majúscules i minúscules, i la substitució de cadenes ajuden a mantindre les etiquetes coherents.
Les dades de l'àlbum es poden importar des de gnudb.org, MusicBrainz, Discogs, Amazon. Hi ha disponible la importació automàtica per lots per a múltiples carpetes. També és possible exportar dades i generar llistes de reproducció.
Linux
Install on Linux
This button only works with
Discover
and other AppStream application stores. You can also use your distribution's package manager.
Flathub
Download On Flathub
Kid3 Windows installers are also available to download from the binary-factory. These versions don't contains the translations and are intended for testing purpose. Get involved and help us making them better!
Releases RSS
3.8.7 2021-06-20
3.8.6 2021-03-18
3.8.5 2021-01-31
3.8.4 2020-09-26
3.8.3 2020-05-10
3.8.2 2020-01-23
3.8.1 2019-12-23