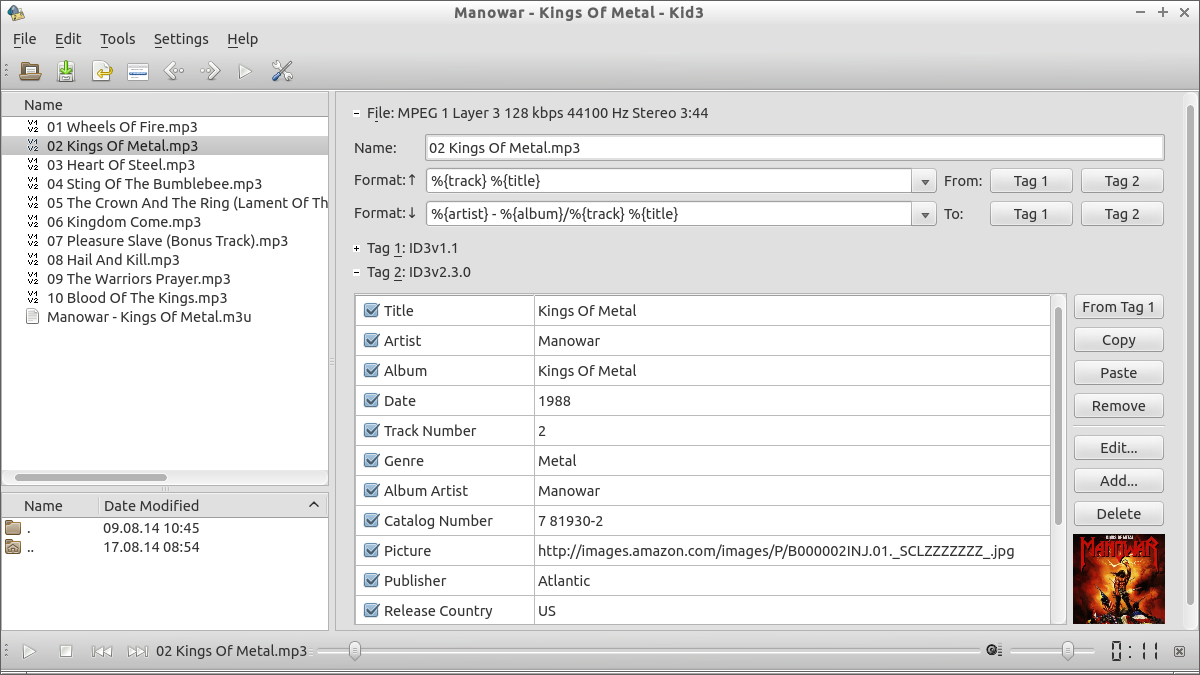 With Kid3, an audio tag editor, you can edit tags in MP3, Ogg/Vorbis, DSF, FLAC, Opus, MPC, APE, MP4/AAC, MP2, Speex, TrueAudio, WavPack, WMA, WAV, AIFF and tracker files.
All frames in the ID3 tags of MP3 files can be edited, and it is possible to convert between ID3v1.1, ID3v2.3 and ID3v2.4. Synchronized lyrics can be edited, imported and exported to LRC Karaoke files.
The tags of multiple files can be set together. It is possible to generate tags from file names or the contents of other tag fields and to generate file names from tags and rename folders from tags. Automatic case conversion and string replacement help to keep tags consistent.
Album data can be imported from gnudb.org, TrackType.org, MusicBrainz, Discogs, Amazon; automatic batch import is available for multiple folders. It is also possible to export data and generate play lists.
Linux
Instal·lar a Linux
Aquest botó només funciona amb el
Discover
i altres botigues d'aplicacions en AppStream. També podreu utilitzar el gestor de paquets de la vostra distribució.
Llançaments
3.8.4 26 de setembre de 2020
3.8.3 10 de maig de 2020
3.8.2 23 de gener de 2020
3.8.1 23 de desembre de 2019
Mostra mes llançaments...