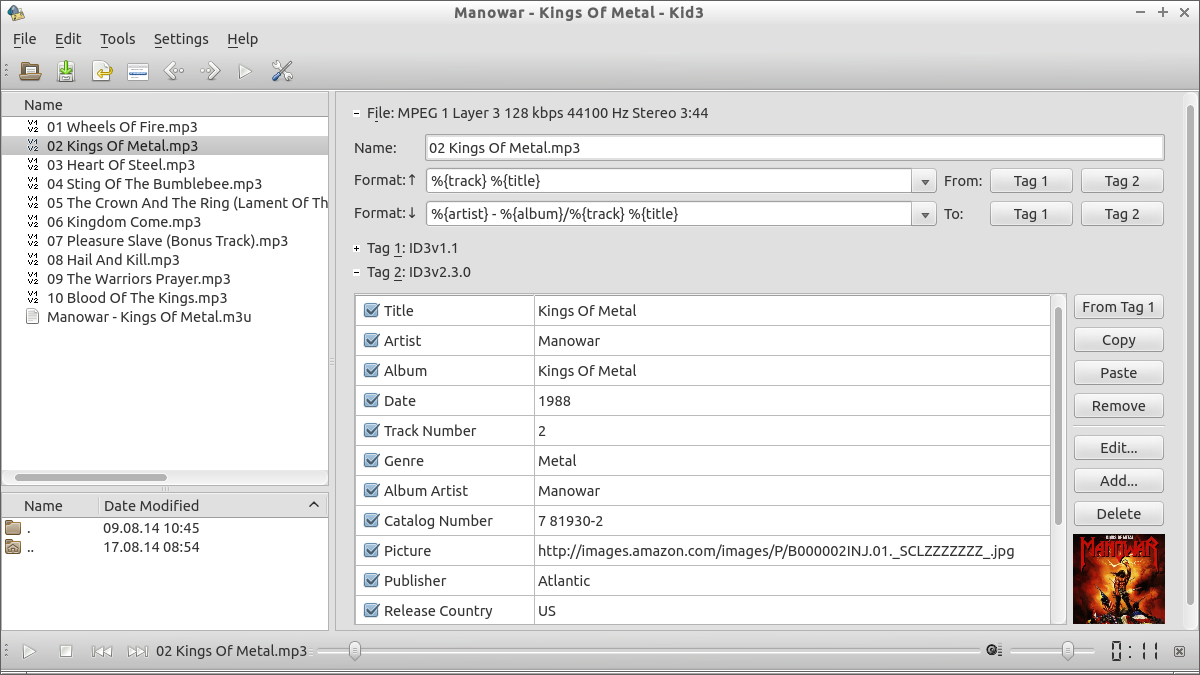 Kid3 er en lydmærke-editor, hvormed du kan redigere mærker i MP3-, Ogg/Vorbis-, DSF-, FLAC-, Opus-, MPC-, APE-, MP4/AAC-, MP2-, Speex-, TrueAudio-, WavPack-, WMA-, WAV-, AIFF- og tracker-filer.
Alle rammer i ID3-mærkerne for MP3-filer kan redigeres, og det er muligt at konvertere mellem ID3v1.1, ID3v2.3 og ID3v2.4. Synkroniserede sangtekster kan redigeres, importeres og eksporteres til LRC karaoke-filer.
Mærker fra flere filer kan sættes sammen. Det er muligt at generere mærker ud fra filnavne eller indholdet af andre mærkefelter samt at generere filnavne fra mærker og omdøbe mapper ud fra mærker. Automatisk konvertering af versaler og erstatning af strenge hjælper med at holde mærkerne konsistente.
This button only works with
Discover
and other AppStream application stores. You can also use your distribution's package manager.
Kid3 Windows installers are also available to download from the binary-factory. These versions don't contain the translations and are intended for testing purpose. Get involved and help us make them better!
Releases RSS
3.9.1 2022-01-15
3.9.0 2021-12-18
3.8.7 2021-06-20
3.8.6 2021-03-18
3.8.5 2021-01-31
3.8.4 2020-09-26
3.8.3 2020-05-10
3.8.2 2020-01-23
3.8.1 2019-12-23