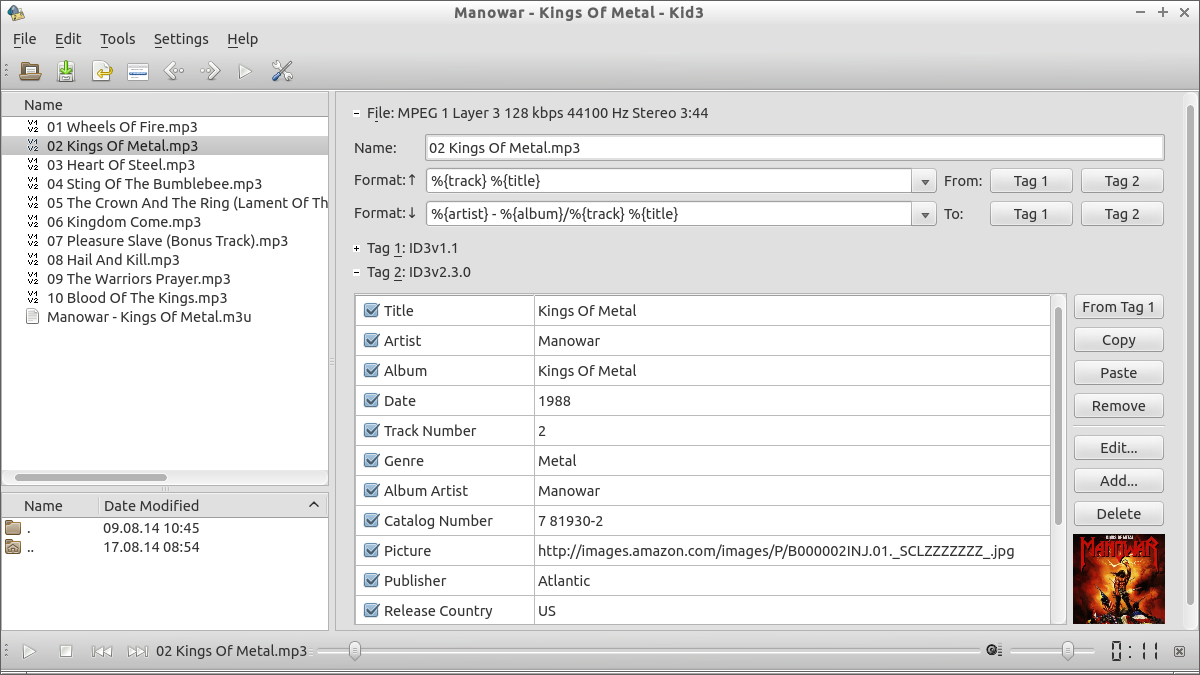 Helifailide siltide redaktor Kid3 võimaldab muuta MP3-, Ogg/Vorbise, DSF-, FLAC-, Opuse, MPC-, APE-, MP4/AAC-, MP2-, Speex-, TrueAudio-, WavPack-, WMA-, WAV-, AIFF- ja tracker-failide silte.
Kõiki MP3-faili ID3 siltide kaadreid saab muuta ning võimalik on teisendamine ID3v1.1, ID3v2.3 ja ID3v2.4 vahel. Sünkroonitud laulusõnu saab muuta, importida ja eksportida LRC Karaoke failina.
Mitme faili silte saab kokku siduda. Silte on võimalik luua failinime või teiste siltide väljade põhjal ning siltide põhjal saab nii luua failinimesid kui ka muuta kataloogide nime. Siltide ühtlust aitavad tagada automaatne tähesuuruse teisendamine ja stringi asendamine.
Linux
Install on Linux
This button only works with
Discover
and other AppStream application stores. You can also use your distribution's package manager.
Flathub
Download On Flathub
Kid3 Windows installers are also available to download from the binary-factory. These versions don't contains the translations and are intended for testing purpose. Get involved and help us making them better!
Releases RSS
3.8.7 2021-06-20
3.8.6 2021-03-18
3.8.5 2021-01-31
3.8.4 2020-09-26
3.8.3 2020-05-10
3.8.2 2020-01-23
3.8.1 2019-12-23