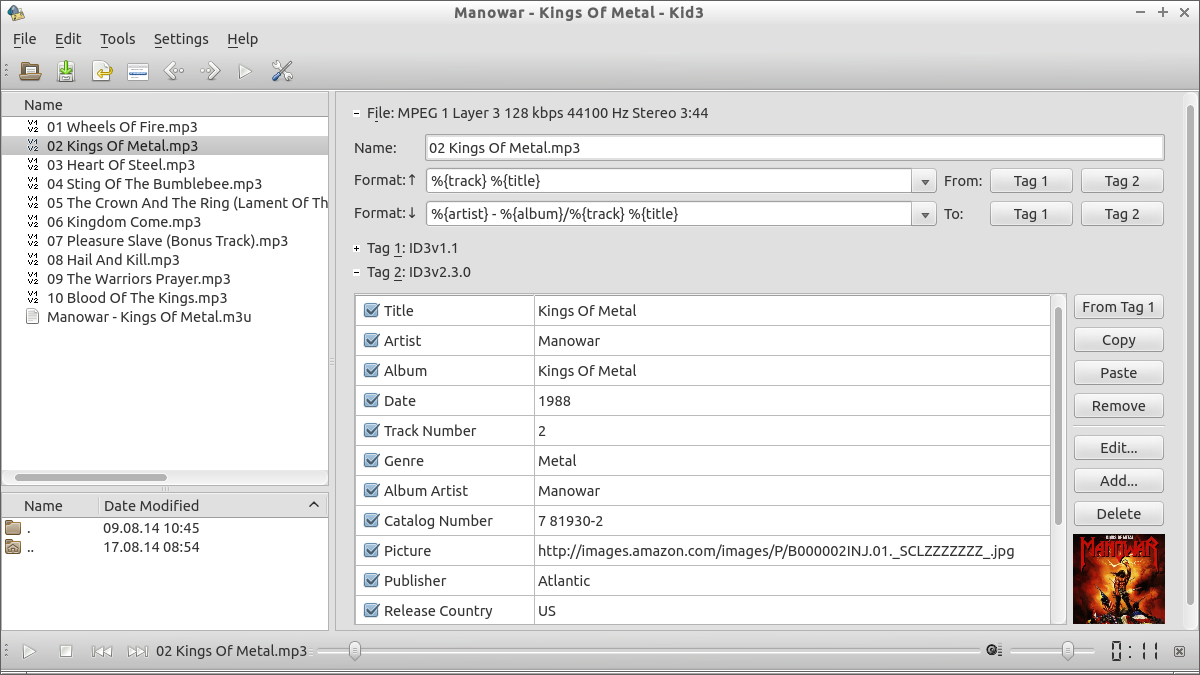 Kid3-äänitunnistemuokkaimella voi muokata tunnisteita MP3-, Ogg/Vorbis-, DSF-, FLAC-, Opus-, MPC-, APE-, MP4/AAC-, MP2-, Speex-, TrueAudio-, WavPack-, WMA-, WAV-, AIFF- ja Tracker-tiedostoissa.
Kaikkia MP3-tiedostojen ID3-tunnistekenttiä voi muokata, ja muunnos ID3v1.1:n, ID3v2.3:n ja ID3v2.4:n välillä on mahdollista. Synkronoituja sanoituksia voi muokata, tuoda ja viedä LRC Karaoke -tiedostoiksi.
Tunnisteet voi asettaa usealle tiedostolle yhtä aikaa. Tunnisteet voi kehittää tiedostonimistä tai muiden tunnistekenttien sisällöstä tai päinvastoin tuottaa tiedosto- ja kansionimet tunnisteista. Tunnisteiden yhtenäisenä pitämisen helpottamiseksi voi pien- ja suuraakkostusta muuttaa ja merkkijonoja korvata automaattisesti.
Albumin tiedot voi tuoda gnudb.orgista, MusicBrainzistä, Discogsista ja Amazonista. Useamman kansion automaattinen eräajotuonti on mahdollista. Tiedot voi myös viedä ja luoda soittolistan.
This button only works with
Discover
and other AppStream application stores. You can also use your distribution's package manager.
Julkaisut RSS
3.9.3 2023-01-12
3.9.2 2022-08-06
3.9.1 2022-01-15
3.9.0 2021-12-18
3.8.7 2021-06-20
3.8.6 2021-03-18
3.8.5 2021-01-31
3.8.4 2020-09-26
3.8.3 2020-05-10
3.8.2 2020-01-23
3.8.1 2019-12-23
Kid3 Windows installers are also available to download from the binary-factory. These versions are intended for testing purpose. Get involved and help us make them better!