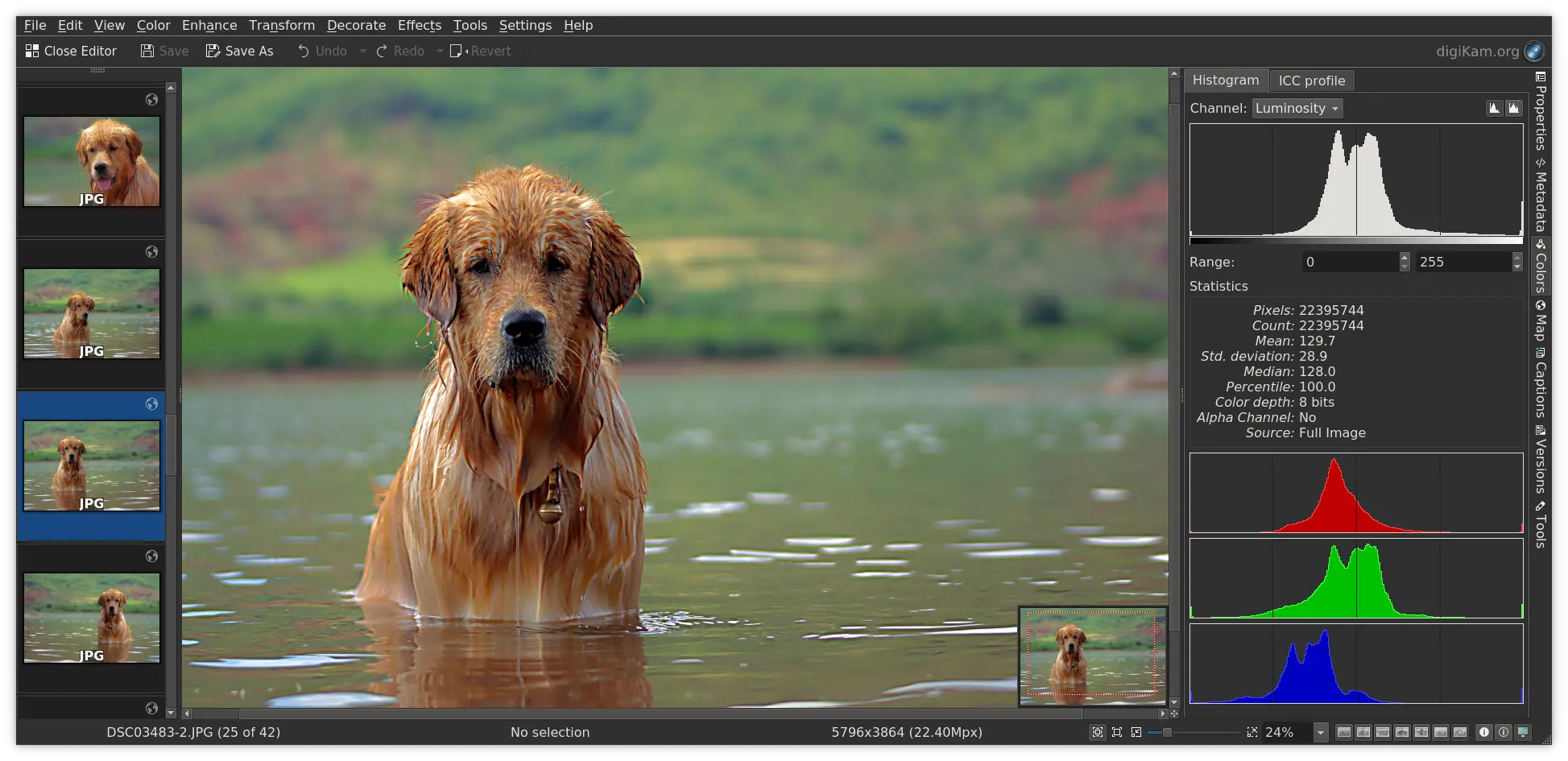 Showfoto é un editor de imaxes rápido con potentes ferramentas de edición. Pode usalo para ver as súas fotografías e melloralas. Showfoto é o editor de imaxes independente do proxecto digiKam.
This button only works with
Discover
and other AppStream application stores. You can also use your distribution's package manager.
Releases RSS
7.9.0 2022-12-04
7.8.0 2022-09-04
7.7.0 2022-06-26
7.6.0 2022-03-06
7.5.0 2022-01-16
7.4.0 2021-12-18
7.3.0 2021-07-11
7.2.0 2021-03-22
7.1.0 2020-09-06
7.0.0 2020-07-19
6.4.0 2019-11-09
6.3.0 2019-09-08
6.2.0 2019-08-04
6.1.0 2019-04-14
6.0.0 2019-02-10
5.9.0 2018-03-25
5.8.0 2018-01-12
5.7.0 2017-08-27
5.6.0 2017-06-11
5.5.0 2017-03-12
5.4.0 2017-01-08
5.3.0 2016-11-06
5.2.0 2016-09-18
5.1.0 2016-08-07
5.0.0 2016-07-03
4.14.0 2015-10-11
4.13.0 2015-08-30
4.12.0 2015-07-26
4.11.0 2015-06-14
4.10.0 2015-05-10
4.9.0 2015-04-05
4.8.0 2015-02-22
4.7.0 2015-01-25
4.6.0 2014-12-14
4.5.0 2014-11-09
4.4.0 2014-10-06
4.3.0 2014-09-08
4.2.0 2014-08-03
4.1.0 2014-06-22
4.0.0 2014-05-11
3.5.0 2013-09-29
3.4.0 2013-09-01
3.3.0 2013-08-04
3.2.0 2013-05-12
3.1.0 2013-03-10
3.0.0 2013-02-06
2.9.0 2012-09-02
2.8.0 2012-08-05
2.7.0 2012-07-08
2.6.0 2012-05-06
2.5.0 2012-01-08
2.4.0 2011-12-04
2.3.0 2011-11-06
2.2.0 2011-10-02
2.1.0 2011-09-04
2.0.0 2011-07-24
1.9.0 2011-02-19
1.8.0 2011-01-23
1.7.0 2010-12-19
1.6.0 2010-11-22
1.5.0 2010-10-10
1.4.0 2010-08-22
1.3.0 2010-06-07
1.2.0 2010-03-28
1.1.0 2010-01-31
1.0.0 2009-12-20
0.10.0 2009-05-30
0.9.5 2009-03-15
0.9.4 2008-07-16
0.9.3 2007-12-23
0.9.2 2007-06-13
0.9.1 2007-03-04
0.9.0 2006-12-18
0.8.0 2006-07-10
0.7.0 2005-05-21
0.6.0 2003-12-08
0.5.0 2002-10-03
0.4.0 2002-05-10
0.3.0 2002-06-07
0.2.0 2002-03-03
0.1.0 2001-12-24