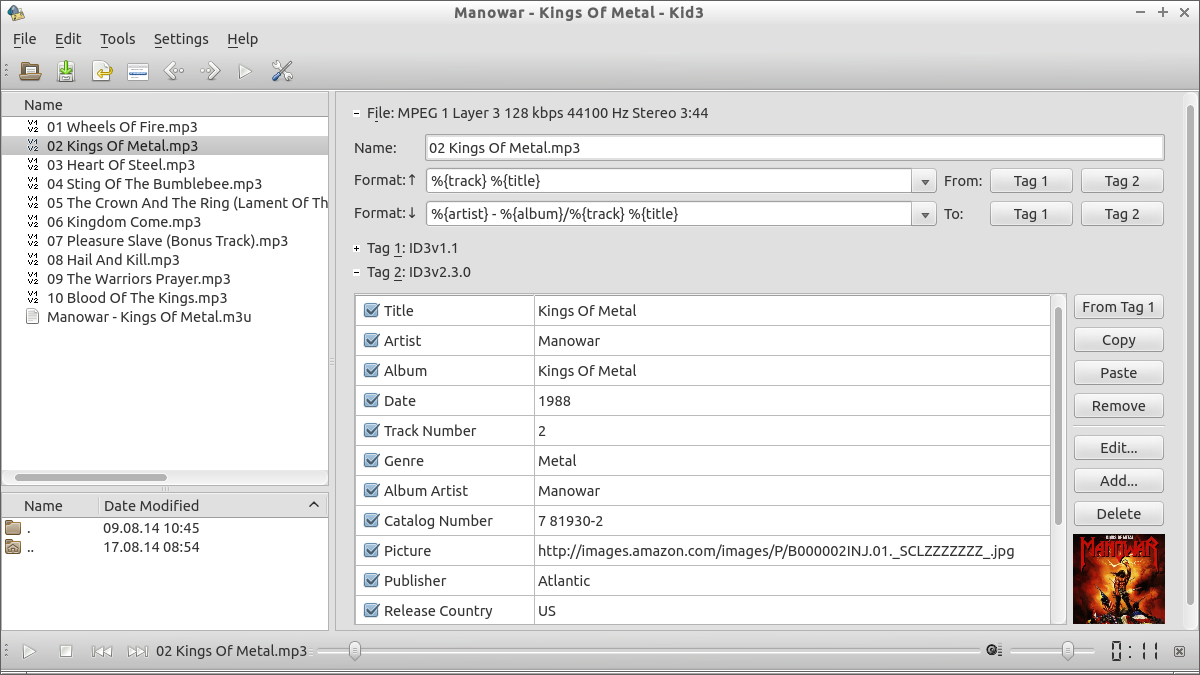 Dengan Kid3, sebuah pengedit tag audio, kamu bisa mengedit tag-tag di dalam file-file MP3, Ogg/Vorbis, DSF, FLAC, Opus, MPC, APE, MP4/AAC, MP2, Speex, TrueAudio, WavPack, WMA, WAV, AIFF dan sebagai pelacak.
Semua bingkai dalam tag ID3 pada file MP3 bisa diedit, dan dimungkinkan untuk konversi antara ID3v1.1, ID3v2.3 dan ID3v2.4. Lirik yang disinkronkan bisa diedit, diimpor dan diekspor ke file Karaoke LRC.
Tag dari beberapa file bisa disatukan. Yang memungkinkan untuk membuat tag dari nama file atau konten kolom tag lainnya dan untuk menghasilkan nama file dari tag dan mengganti nama folder dari tag. Konversi otomatis dan penggantian string membantu menjaga konsistensi tag.
Data album bisa diimpor dari gnudb.org, MusicBrainz, Discogs, Amazon; impor batch otomatis telah tersedia untuk multipel folder. Yang juga memungkinkan untuk mengekspor data dan menghasilkan daftar playlist.
This button only works with
Discover
and other AppStream application stores. You can also use your distribution's package manager.
Kid3 Windows installers are also available to download from the binary-factory. These versions don't contain the translations and are intended for testing purpose. Get involved and help us make them better!
Releases RSS
3.9.1 2022-01-15
3.9.0 2021-12-18
3.8.7 2021-06-20
3.8.6 2021-03-18
3.8.5 2021-01-31
3.8.4 2020-09-26
3.8.3 2020-05-10
3.8.2 2020-01-23
3.8.1 2019-12-23