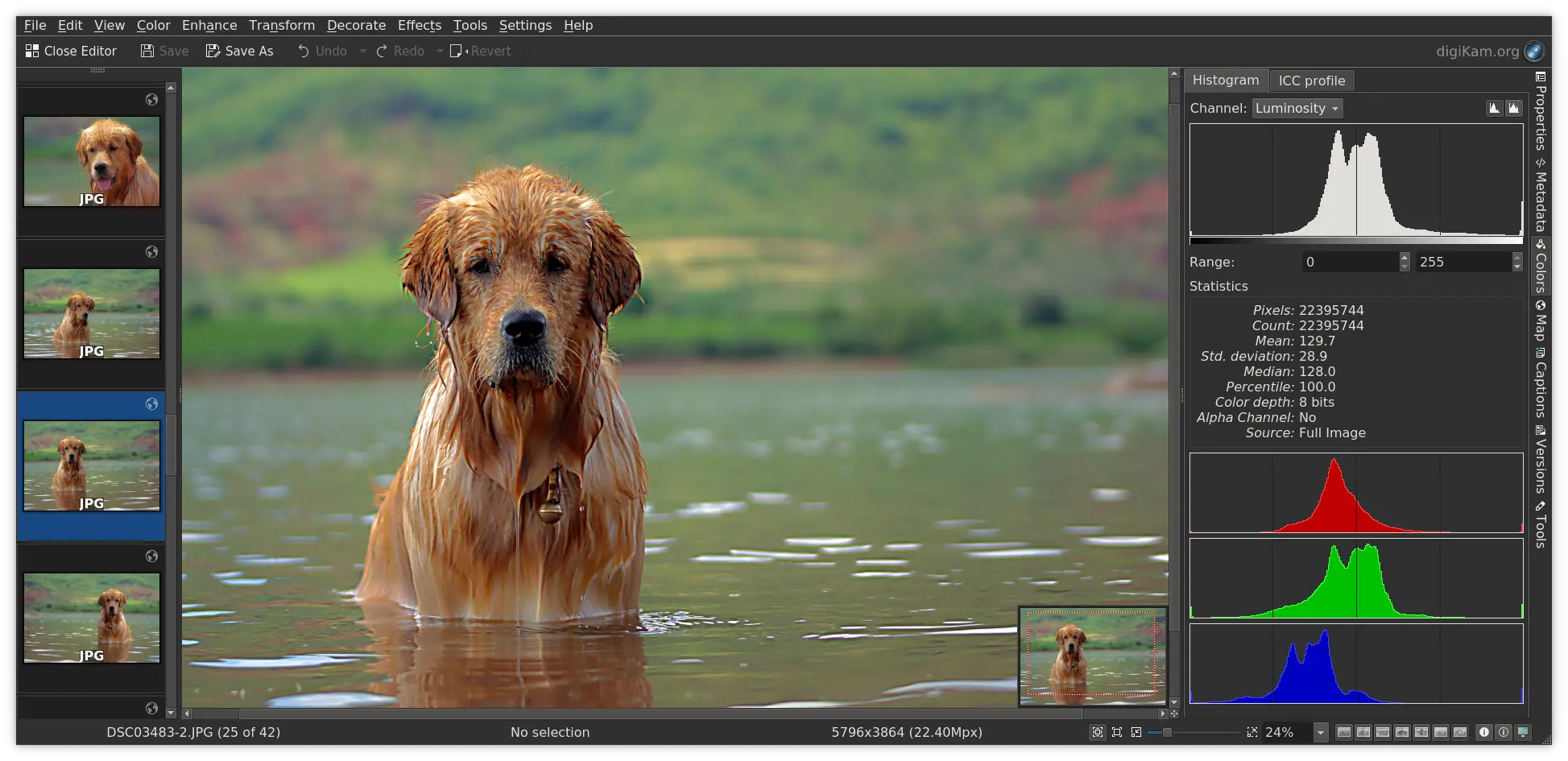 Showfoto adalah sebuah Editor Citra yang cepat dengan peralatan pengeditan citra yang unggul. Kamu bisa menggunakannya untuk menampilkan fotografikmu dan memperbaikinya. Showfoto adalah sebuah editor citra yang mandiri dari projek digiKam.
Linux
Install on Linux
This button only works with
Discover
and other AppStream application stores. You can also use your distribution's package manager.
Releases RSS
7.3.0 2021-07-11
7.2.0 2021-03-22
7.1.0 2020-09-06
7.0.0 2020-07-19
6.4.0 2019-11-09
6.3.0 2019-09-08
6.2.0 2019-08-04
6.1.0 2019-04-14
6.0.0 2019-02-10
5.9.0 2018-03-25
5.8.0 2018-01-12
5.7.0 2017-08-27
5.6.0 2017-06-11
5.5.0 2017-03-12
5.4.0 2017-01-08
5.3.0 2016-11-06
5.2.0 2016-09-18
5.1.0 2016-08-07
5.0.0 2016-07-03
4.14.0 2015-10-11
4.13.0 2015-08-30
4.12.0 2015-07-26
4.11.0 2015-06-14
4.10.0 2015-05-10
4.9.0 2015-04-05
4.8.0 2015-02-22
4.7.0 2015-01-25
4.6.0 2014-12-14
4.5.0 2014-11-09
4.4.0 2014-10-06
4.3.0 2014-09-08
4.2.0 2014-08-03
4.1.0 2014-06-22
4.0.0 2014-05-11
3.5.0 2013-09-29
3.4.0 2013-09-01
3.3.0 2013-08-04
3.2.0 2013-05-12
3.1.0 2013-03-10
3.0.0 2013-02-06
2.9.0 2012-09-02
2.8.0 2012-08-05
2.7.0 2012-07-08
2.6.0 2012-05-06
2.5.0 2012-01-08
2.4.0 2011-12-04
2.3.0 2011-11-06
2.2.0 2011-10-02
2.1.0 2011-09-04
2.0.0 2011-07-24
1.9.0 2011-02-19
1.8.0 2011-01-23
1.7.0 2010-12-19
1.6.0 2010-11-22
1.5.0 2010-10-10
1.4.0 2010-08-22
1.3.0 2010-06-07
1.2.0 2010-03-28
1.1.0 2010-01-31
1.0.0 2009-12-20
0.10.0 2009-05-30
0.9.5 2009-03-15
0.9.4 2008-07-16
0.9.3 2007-12-23
0.9.2 2007-06-13
0.9.1 2007-03-04
0.9.0 2006-12-18
0.8.0 2006-07-10
0.7.0 2005-05-21
0.6.0 2003-12-08
0.5.0 2002-10-03
0.4.0 2002-05-10
0.3.0 2002-06-07
0.2.0 2002-03-03
0.1.0 2001-12-24