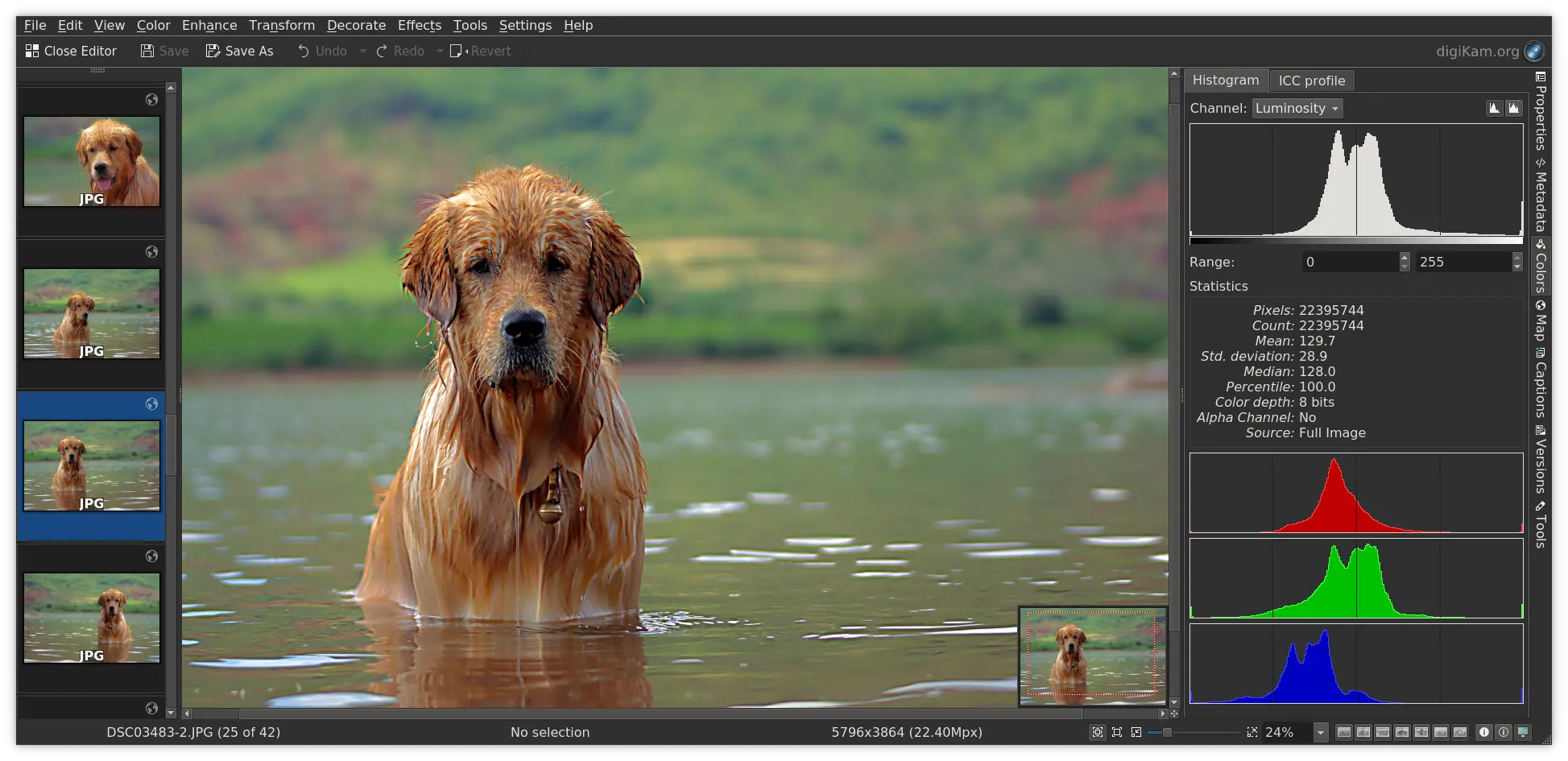 O Showfoto é um editor de imagens rápido com ferramentas de edição de imagens poderosas. Podê-lo-á usar para ver as suas fotografias e melhorá-las. O Showfoto é o editor de imagens independente do projecto digiKam.
Linux
Install on Linux
This button only works with
Discover
and other AppStream application stores. You can also use your distribution's package manager.
Releases RSS
7.3.0 2021-07-11
7.2.0 2021-03-22
7.1.0 2020-09-06
7.0.0 2020-07-19
6.4.0 2019-11-09
6.3.0 2019-09-08
6.2.0 2019-08-04
6.1.0 2019-04-14
6.0.0 2019-02-10
5.9.0 2018-03-25
5.8.0 2018-01-12
5.7.0 2017-08-27
5.6.0 2017-06-11
5.5.0 2017-03-12
5.4.0 2017-01-08
5.3.0 2016-11-06
5.2.0 2016-09-18
5.1.0 2016-08-07
5.0.0 2016-07-03
4.14.0 2015-10-11
4.13.0 2015-08-30
4.12.0 2015-07-26
4.11.0 2015-06-14
4.10.0 2015-05-10
4.9.0 2015-04-05
4.8.0 2015-02-22
4.7.0 2015-01-25
4.6.0 2014-12-14
4.5.0 2014-11-09
4.4.0 2014-10-06
4.3.0 2014-09-08
4.2.0 2014-08-03
4.1.0 2014-06-22
4.0.0 2014-05-11
3.5.0 2013-09-29
3.4.0 2013-09-01
3.3.0 2013-08-04
3.2.0 2013-05-12
3.1.0 2013-03-10
3.0.0 2013-02-06
2.9.0 2012-09-02
2.8.0 2012-08-05
2.7.0 2012-07-08
2.6.0 2012-05-06
2.5.0 2012-01-08
2.4.0 2011-12-04
2.3.0 2011-11-06
2.2.0 2011-10-02
2.1.0 2011-09-04
2.0.0 2011-07-24
1.9.0 2011-02-19
1.8.0 2011-01-23
1.7.0 2010-12-19
1.6.0 2010-11-22
1.5.0 2010-10-10
1.4.0 2010-08-22
1.3.0 2010-06-07
1.2.0 2010-03-28
1.1.0 2010-01-31
1.0.0 2009-12-20
0.10.0 2009-05-30
0.9.5 2009-03-15
0.9.4 2008-07-16
0.9.3 2007-12-23
0.9.2 2007-06-13
0.9.1 2007-03-04
0.9.0 2006-12-18
0.8.0 2006-07-10
0.7.0 2005-05-21
0.6.0 2003-12-08
0.5.0 2002-10-03
0.4.0 2002-05-10
0.3.0 2002-06-07
0.2.0 2002-03-03
0.1.0 2001-12-24