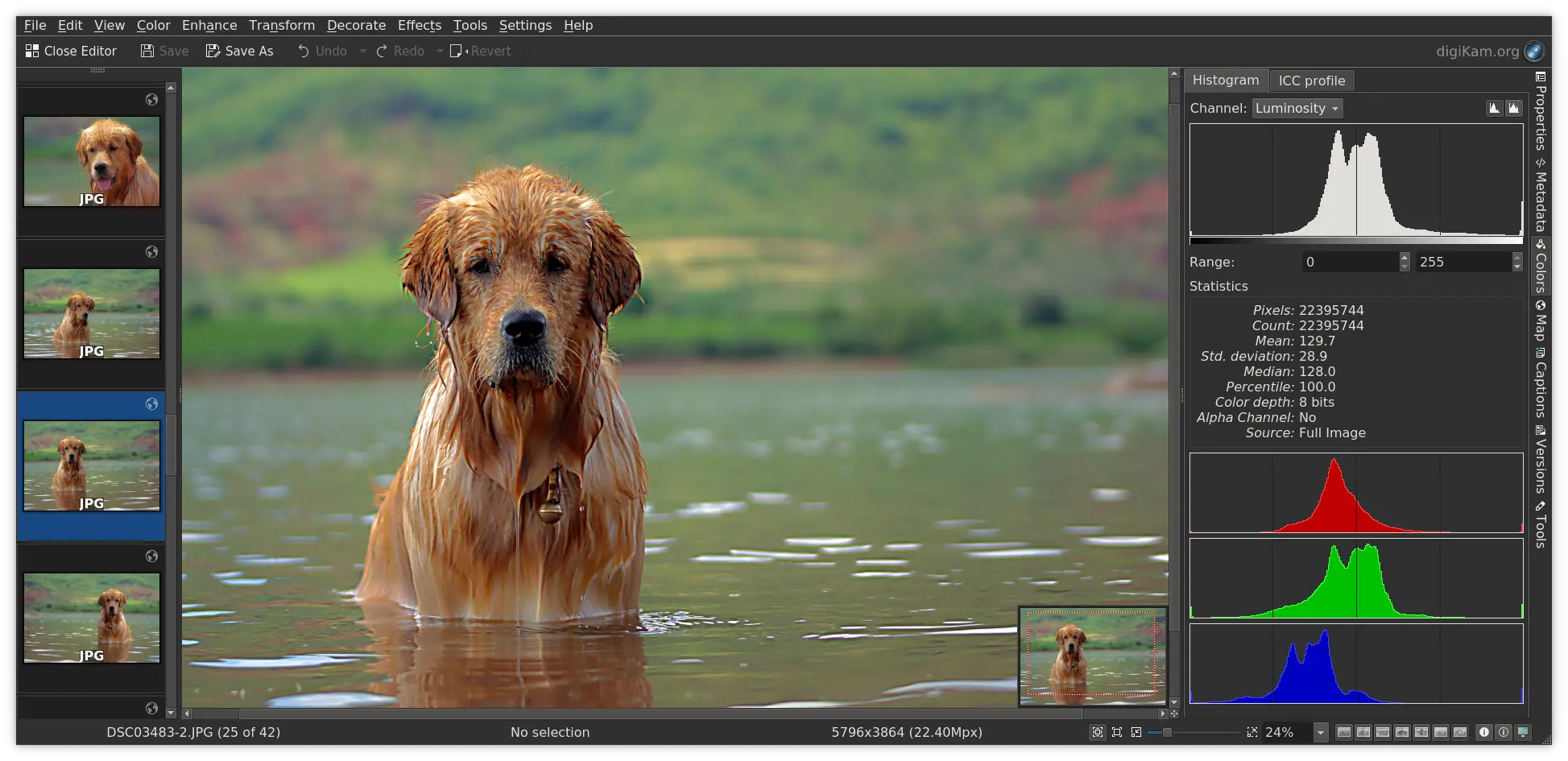 Showfoto is a fast Image Editor with powerful image editing tools. You can use it to view your photographs and improve them. Showfoto is the standalone image editor of the digiKam project.
This button only works with
Discover
and other AppStream application stores. You can also use your distribution's package manager.
Releases RSS
8.2.0 2023-12-03
8.1.0 2023-07-09
8.0.0 2023-04-16
7.10.0 2023-03-12
7.9.0 2022-12-04
7.8.0 2022-09-04
7.7.0 2022-06-26
7.6.0 2022-03-06
7.5.0 2022-01-16
7.4.0 2021-12-18
7.3.0 2021-07-11
7.2.0 2021-03-22
7.1.0 2020-09-06
7.0.0 2020-07-19
6.4.0 2019-11-09
6.3.0 2019-09-08
6.2.0 2019-08-04
6.1.0 2019-04-14
6.0.0 2019-02-10
5.9.0 2018-03-25
5.8.0 2018-01-12
5.7.0 2017-08-27
5.6.0 2017-06-11
5.5.0 2017-03-12
5.4.0 2017-01-08
5.3.0 2016-11-06
5.2.0 2016-09-18
5.1.0 2016-08-07
5.0.0 2016-07-03
4.14.0 2015-10-11
4.13.0 2015-08-30
4.12.0 2015-07-26
4.11.0 2015-06-14
4.10.0 2015-05-10
4.9.0 2015-04-05
4.8.0 2015-02-22
4.7.0 2015-01-25
4.6.0 2014-12-14
4.5.0 2014-11-09
4.4.0 2014-10-06
4.3.0 2014-09-08
4.2.0 2014-08-03
4.1.0 2014-06-22
4.0.0 2014-05-11
3.5.0 2013-09-29
3.4.0 2013-09-01
3.3.0 2013-08-04
3.2.0 2013-05-12
3.1.0 2013-03-10
3.0.0 2013-02-06
2.9.0 2012-09-02
2.8.0 2012-08-05
2.7.0 2012-07-08
2.6.0 2012-05-06
2.5.0 2012-01-08
2.4.0 2011-12-04
2.3.0 2011-11-06
2.2.0 2011-10-02
2.1.0 2011-09-04
2.0.0 2011-07-24
1.9.0 2011-02-19
1.8.0 2011-01-23
1.7.0 2010-12-19
1.6.0 2010-11-22
1.5.0 2010-10-10
1.4.0 2010-08-22
1.3.0 2010-06-07
1.2.0 2010-03-28
1.1.0 2010-01-31
1.0.0 2009-12-20
0.10.0 2009-05-30
0.9.5 2009-03-15
0.9.4 2008-07-16
0.9.3 2007-12-23
0.9.2 2007-06-13
0.9.1 2007-03-04
0.9.0 2006-12-18
0.8.0 2006-07-10
0.7.0 2005-05-21
0.6.0 2003-12-08
0.5.0 2002-10-03
0.4.0 2002-05-10
0.3.0 2002-06-07
0.2.0 2002-03-03
0.1.0 2001-12-24